Automation, Electro & Instrumentation
Boiler and burner controls
Marine Electricity
Machinery and Plants
Hull & Superstructure
Test and certification
Automation, Electro & Instrumentation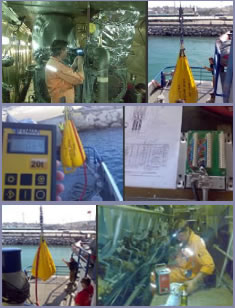 Our services are available in any part of the world, including onboard maintenance/repair even during voyage. We offer maintenance and servicing support for various automation controls in Marine and Industrial Sectors.
Our service area includes Installation, Loop checking, Troubleshooting & Commissioning, Repair and Maintenance of:
Fire Detection and Alarm System
Speed Log
Echo Sounder
Telegraph
Auto pilot & steering gear
CPP Propeller, control
Rudder Angle Indicator
Main & Auxiliary Engines Safety & Alarm Systems
Emergency Generator
Power Generating Systems ( AVR, Paralleling, Loading, ACB, Alternator side, Self Exciting)
MSB Instrument Calibration
Data Logger
Engine Room Alarm System
Functional parameter monitoring (e.g. Exhaust Temperature)
Boiler Control System ( Electronic or Pneumatic Control, Auto Combustion Control, Water Level Control, Safety & Protection System and Burner Management Systems.)
Inert Gas Systems
Oxygen Analyzer (Servomex, portable, etc.)
Fixed and portable Gas Detection And Alarm Systems for oxygen, combustible and toxic gases
Maneuvering systems
Viscotherm
Ultrasonic Filtering Systems
Oil mist detection
Bilge Water Monitoring & Alarm (15 PPM)
Salinometer
ODME (Seres MK II & MK III, Marpoil, ITT, STC Marine, etc.)
Cargo Valves control and indication
Cargo Pumps Remote Control & Safety
C.O.P. Temperature Monitor
High level/overfill alarm system
Ullage System & Draft Gauge System
Repairing of any PCB Card
Fabrication of any automation panels (pneumatic, relays, electronic cards, microcontrollers, etc)
Test and certification of alarms, gauges, testers and monitoring equipment.
Return to Top
Boiler and burner controls
Boiler Control System (Electronic or Pneumatic Control, Auto Combustion Control, Water Level Control, Safety & Protection System and Burner Management Systems.)
Inert Gas Systems
Oxygen Analyzer (Servomex, portable, etc.)
PLC controls: design, fabrication, test and alterations
Pumps and remote controls
NOx monitors
Incinerators
Return to Top
Marine Electrics
Switchboard, Contacts and breakers
wire'ring and replacements
Motors: Supply, test and repair, Certifications
Alternators / Generators, repair and certifications
Power generation controls and safety relays
Galley and Plant equipment
Compressors
Freeze and Chill plant controls
Public address systems
Entertainment systems
Light and controls
Fire damage
Return to Top
Machinery and Plants
Repair and overhaul of main and auxiliary Engines
Pump repair and overhaul
Purifiers
Hydraulic Plant and system repair and service
Test and calibration of sensors and alarms
Valve repair and replacement
Pipe and tube repair and construction
Sewage treatment plants
Incinerators
Return to Top
Hull, Superstructure, casings, Tank, Boiler and Deck layout
Steel: repair, replacement, design (By associated Company)
Aluminum: repair, replacement, design (By associated Company)
Stainless Steel: repair, replacement, design(By associated company)
Blasting and coating, by riding squads
Boiler tubes
Return to Top
Test, calibration and certification
Load cell testing
Water-weights
Cargo hose testing (purpose test rig)
PV Valves
Yokohama-Fender safety valve test (in association with Fenmar Ltd)
Yokohama Fender condition Survey (in association with Fenmar Ltd)
Temperature testing and calibration
Alarm test and setting
Pressure, test
Gas Alarms
Oxygen sensors / monitors
NOx Monitors survey
15ppm bilge separator, annual condition Survey
ODME annual condition survey
UTI Tapes
Tool testing
Weight scales
Return to Top