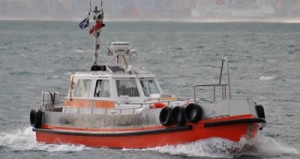 US Coast Guard crews in combined efforts with the crew of the cargo vessel Megalodon rescued a sailor aboard a life raft Friday, approximately 420 nautical miles northeast of Puerto Rico.
Cedric George Barriere, a 41-year-old French citizen, was forced to abandon the French-flagged sailing vessel Tepacap, after the vessel reportedly capsized and started to sink.
USCG responded to French sailor, Cedric Barriere's EPIRB distres's signal.
Coast Guard watchstanders immediately launched an HU-25 Falcon Jet from Air Station Borinquen to search for the distressed sailor. They also conducted an Automated Mutual Assistance Vessel Rescue (AMVER) callout to identify and notify vessels transiting in the vicinity of the distress.

Cargo Vessel Megalodon

The Megalodon, a Marshall Islands flag, 864-foot bulk carrier, was transiting from Colombia to Israel to deliver their cargo when they received the AMVER callout and the Coast Guard's request for assistance.  The master of the Megalodon responded and diverted to the scene to rescue the distressed sailor.
We're glad Mr. Barriere is safe and sound and, as always, extend our thanks to the USCG for their wonderful service in taking care of all us boaters! And to the Master and crew of Megalodon, well done! It's great to read about the AMVER system's success.
The Megalodon had been on voyage across the Atlantic when the incident occurred.  Arrangements were made to repatriate Mr Barriere by the French Embassy via the Straights of Gibraltar. James Molinary Ltd were requested to perform this task and to see Mr Barriere transit safely to shore.
Later, the French authorities  thanked James Molinary Ltd for their professional services.
Dear Jules,
The whole operation has gone well, and now our French National is safe.
I would like to thank you for your help in that matter.
I have to say also that the team on board of "Polaco" was really nice and have conducted this journey to the Megalodon with professionalism. Many thanks to them.
Now I know your name and company, I will contact or recommend your name for any further similar operation.
Bear in mind that I am travelling to Paris on Friday the 10th, so if you want me to post your invoice to the insurance company, directly from Paris, just tell me.
My office is on 10th floor of the ICC Building entrance Main Street.
Have a great day.
Kind regards
Pierre Fayaud
Consul Honoraire de France à Gibraltar
Honorary Consul for France in Gibraltar