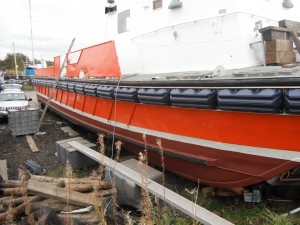 Cathy M is a multi-role, off-shore fast catamaran. She offers a lot of space, outstanding stability and a lot of deck space for ship chandlery and for ship repair operations. She is our latest addition to our already impressive fleet of fine vessels.
Originally built by McTay Marine shipyard at Bromborough on the South bank of the River Mersey, in the North West of England and built of aluminum, she is capable of speeds in excess of 17knots supplied by two Perkins T6.3544m 220hp at 2400rpm.
She is fitted with latest full suite of navonics and electricals for blue water operations.