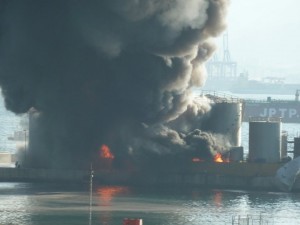 James Molinary Ltd fire tug "Anna" and Oil Spill Response vessel "Alex" went to the scene of a major fire incident in the port of Gibraltar on Tuesday 31st May 2011, when an oil storage tank exploded just metres from the cruise ship Independence of the Seas. She was berthed alongside on the Western Arm of the dock when the accident happened.
The explosion blew the lid off the tank and sent a fireball high into the air. The buckled steel lid lay on the quayside some distance away from the tank, indicating the force of the explosion.
Some passengers on board the cruise ship Independence of the Seas sustained injuries as a result of the explosion. A half-metre piece of steel from the tank landed on the ship and some passengers suffered minor burns and one passenger suffered a fracture.
The ship was due to sail at this time but was delayed. After the initial blast she sailed immediately, leaving two passengers behind, as fire and dense black smoke billowed from the tank.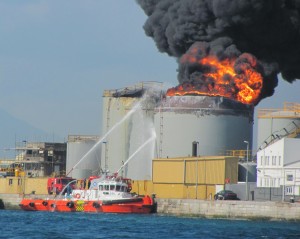 The incident started at around 3.40pm and the loud blast  shook office and residential windows violently. Emergency services rushed to the scene to set up an exclusion zone around the tanks, which are used by local company S.O.R.T to store a mixture of water and oily waste products from ships for re-processing.
"Initial reports indicate that at the time of the explosion two workers were carrying out welding operations on top of the tank that exploded," the Gibraltar Government said in a statement that was issued just after 8.30 pm. Continue reading "GIBRALTAR PORT EXPLOSION SETS OFF MAJOR EMERGENCY" →