Jul 12, 2016 Fleet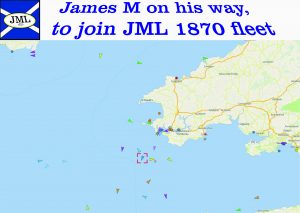 Jun 14, 2016 References
James M
19 Mtrs LOA
Twin 230 Hp 8 Cly
James M being prepared at the Mainstay Yard in Pembrooke, for her MCA Cat 1 150 Miles from a safe haven, survey.
Once completed she will make her way down, on her own bottom to join the JML fleet.
Mar 21, 2013 Oil Spill Response vessel "Carla M"
After a full top to bottom refit "Carla M" has joined the JML active fleet. She is an Halmatic vessel, powered by 2 x 400 hp Volvo diesels, 22 knots max. She can carry 12 passengers and 2 tons of stores and spares. She has MCA Cat 2 60 miles from a safe haven and will be used in the vicinity of Gibraltar to service existing clients
Dec 13, 2012 Fire tug "Anna"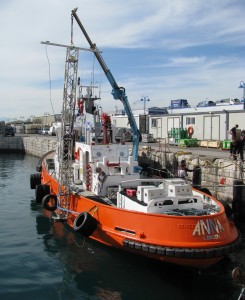 Recent high-resolution surveys of the wreck of New Flame, sunk by collision in the Straits of Gibraltar, exploited the full potential of multibeam sonar systems and utilised advanced data collection methodology conceived by ADUS. The resulting point cloud data was then visualised using 3D interactive techniques developed by the company. The results provided the salvage team with clearer and more informative imagery than has been available previously from other more conventional surveys.
It also allowed the agreed clearance depth over the wreck to be clearly defined, which was checked and confirmed by a later post-clearance survey.